A little bit about The Garden Graphics
Thursday January 2017
Following on from our Christmas Draw, we'd like to tell you a little bit about one of our winners.
Dave Baker of The Garden Graphics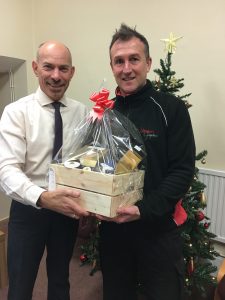 The Garden Graphics is one of Bedford's most reliable design, print and web publishing companies offering high quality service, friendly and efficient staff that will assist you with your printing requirements. Whether it be a simple business card or a complex company brochure, they're sure to have an answer to your media needs.
Their digital print service produces high quality full colour printing for short run Brochures, Flyers, Business Cards, Compliment Slips, Postcards, Magazines and much more. They also provide a Plan Printing service for large format printing in black and white. They can print A4 to A0 size direct from PDF files as well as simple photocopying.
As well as digital print they have an in-house printing and embroidery service to personalize your workwear with your corporate logo or Team Sports Kits for local footballs clubs, boys and girls youth organisations as well as schools.
To find out more about the Garden Graphics, you can visit their website www.thegardengraphics.co.uk
Click here to see how easy it is to switch to Cowley Holmes
FREE Consultation
Worth £200 for Free Call us on
01234 355300 or click on the button below
Click Here
Fixed Fee Quote
Call us on
01234 355300 or click on the button below
Click Here
Become a Client
To find out 8 great reasons why you should get a quote.
Click Here
Claim your FREE Essential Guide to Understanding your accounts